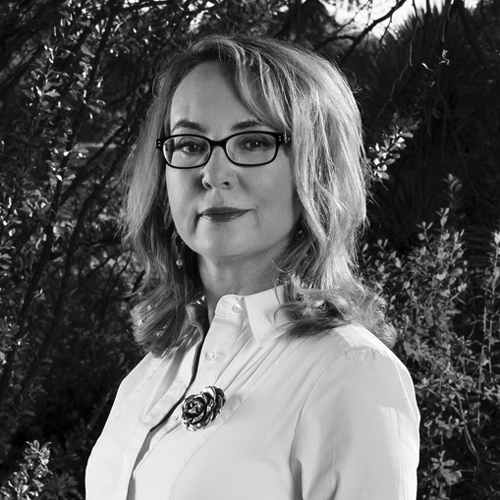 Gabby Giffords
Former United States Representative
Gabrielle Giffords is a gun control advocate and former Democratic member of the U.S. House representing Arizona's 8th Congressional District who served from 2006 - 2012 in the 110th Congress. Before her Congressional career, Giffords spent a single term in the Arizona state house and then won election to the state senate in 2002 – becoming the youngest woman ever elected to that chamber.
Following the retirement of Republican Congressman James Thomas Kolbe in late 2005, Giffords resigned from the state senate and successfully ran for the open seat, becoming the first woman with a Jewish father elected to Congress from Arizona. Giffords served on the Armed Services; Foreign Affairs; and Science and Technology Committees and advocated for border security, alternative energy development, and improved veterans' benefits.
Her career was prematurely cut short when she was nearly killed during an attempted assassination at a constituent event in Tucson, Arizona on January 8, 2011 that took the lives of six attendees, including a federal judge and one of Giffords's aides. She saw her astronaut husband, now U.S. Senator Mark Kelly of Arizona, launch into space that same May before returning to the House to vote on a debt ceiling bill in August. To focus on her recovery, Giffords stepped down from the House in January of 2012. Since leaving Congress, Giffords and her husband established Americans for Responsible Solutions to combat gun violence, which later joined the Law Center to Prevent Gun Violence and was renamed Giffords: Courage to Fight Gun Violence. She has worked to raise awareness about aphasia, the language impairment she has suffered from since her shooting. Giffords enjoys spending her free time playing the French horn, biking, practicing yoga, and learning Spanish.