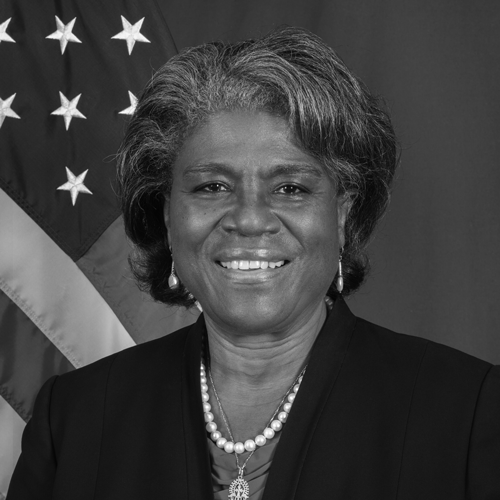 Amb. Linda Thomas-Greenfield
United States ambassador to the United Nations
Ambassador Linda Thomas-Greenfield is the current Representative of the United States of America to the United Nations. She was confirmed by the U.S. Senate on February 23, 2021, and sworn in on February 24, 2021 by Vice President Kamala Harris/
A career diplomat, Thomas-Greenfield returned to public service after retiring from a 35-year career with the U.S. Foreign Service in 2017.  From 2013 to 2017 she served as the Assistant Secretary of State for African Affairs, where she led the bureau focused on the development and management of U.S. policy toward sub-Saharan Africa.  Prior to that, she served as Director General of the Foreign Service and Director of Human Resources (2012-2013), leading a team in charge of the State Department's 70,000-strong workforce.
Her career has included an ambassadorship to Liberia (2008-2012), and postings in Pakistan, Kenya, The Gambia, Nigeria, and Jamaica. In Washington, she served as Principal Deputy Assistant Secretary of the Bureau of African Affairs (2006-2008), and as Deputy Assistant Secretary of the Bureau of Population, Refugees, and Migration (2004-2006).
Thomas-Greenfield has received the 2017 University of Minnesota Hubert Humphrey Public Leadership Award, the 2015 recipient of the Bishop John T. Walker Distinguished Humanitarian Service Award and the 2000 recipient of the Warren Christopher Award for Outstanding Achievement in Global Affairs, among others.  She holds a bachelor's degree from Louisiana State University and a master's degree from the University of Wisconsin, where she also did work towards a doctorate. She received an honorary Doctor of Law degree from the University of Wisconsin in May 2018 and an honorary Doctor of Philosophy from the University of Liberia in May 2012.